What to Do First When a Loved One Dies
June 24, 2022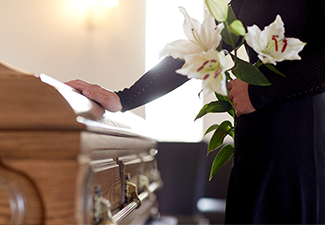 The death of a loved one is often an emotional and unsettling experience for the survivors. Regardless of how prepared you may be, saying goodbye and eventually moving on can be extremely difficult. While you continue to mourn the loss, some vital tasks need to be addressed. A knowledgeable California estate planning attorney can enlighten you about what you need to do after a loved one dies and help you navigate crucial decisions.
At Davidson Estate Law, we are poised and ready to advise, support, and guide families of the deceased during such a difficult period. Our firm will be available to discuss your unique circumstances and enlighten you about the various activities and legal considerations you need to sort out. Our firm proudly serves individuals and families across Oakland, San Francisco, Walnut Creek, Alameda, Berkeley, El Cerrito, and throughout the Bay Area, California.
What Is the First Thing I Should Do
When a Loved One Dies?
When a family member dies in California, the first thing to do is to get a legal pronouncement of death. This will be used to obtain the death certificate. With the death certificate, you can:
Access financial records and bank accounts

Start the probate process

Access pension benefits

Claim life insurance

Arrange for a funeral

Settle the decedent's estate

Settle the deceased person's final affairs
The death certificate may be obtained from a funeral home or medical examiner. Ensure that you obtain the legal pronouncement of death and death certificate as soon as possible. You should also likely obtain several copies of the death certificate as original certificates are required for each financial institution, bank account, retirement plan, etc.
Who Do I Need to Notify?
Reach out to family members, friends, and close relatives of the decedent, notifying them about the passing. In addition, inform any coworkers, professional relationships, employers, brokers, banks, insurance providers, social security office, and other service providers.
What Funeral Arrangements Should Be Made?
Find out whether the deceased person had an estate plan with details about their final wishes. If there is a "disposition of final remains" document, you will find instructions about how they want their body to be treated when they're gone. Ensure that you honor the exact wishes of your deceased loved one.
However, if the person died untimely, and there was no previous conversation regarding burial and funeral arrangements, you will have to make decisions about the disposition of final remains. The available options include burial, cremation, organ donation, or whole-body donation. Most importantly, give the decedent the befitting ceremony they deserve.
What About Children and Pets?
If the decedent was survived by minor children, close relatives, dependents, or pets, make suitable arrangements for their care. Offer them compassionate assistance, dedicated support, and love during such a grieving period.
What's more, recover the will, trust, and other estate planning documents straightway to see whether there are provisions for guardianship and caretaker. If the person died intestate (without a will or estate plan), the California courts may step in to determine the best arrangement for the decedent's minor children and pets.
How Is the Will or Trust Handled?
Locate the decedent's estate plan and identify the executor or Trustee. The executor or trustee will administer the deceased person's estate, settle their final affairs, and distribute assets and property to rightful beneficiaries by the provisions of the will or trust documents.
Do I Need an Attorney?
Losing a loved one can be heartbreaking. Making funeral and burial arrangements, administering their estate, and navigating probate usually pose various challenges. Managing these tasks by yourself without experienced guidance is never advisable to prevent irrevocable mistakes. Therefore, it is important that you reach out to an experienced attorney as soon as possible to assist you with estate administration tasks and other crucial activities.
Legal Guidance You Can Trust
Settling the final affairs of a deceased loved one often involves a lot of complicated processes. Tasks such as planning for the funeral and burial, paying final taxes and bills, closing bank accounts, and administering the estate can present different challenges. Nevertheless, you don't have to go through it all alone. A skilled estate planning attorney can guide you on financial and legal matters and help you make informed decisions.
At Davidson Estate Law, we are committed to offering experienced legal guidance and reliable advocacy to clients in probate and estate administration matters. Our trusted attorney can evaluate your unique situation and enlighten you about the steps you should take following a loved one's death. Our firm can guide and support you every step of the way and offer you the confidence you need to move forward.
Contact Davidson Estate Law today to schedule a simple case assessment with a knowledgeable estate planning attorney. Our firm can offer you the personalized legal guidance and brilliant advocacy you need to navigate key decisions. We're proud to serve clients across Oakland, San Francisco, Walnut Creek, Alameda, Berkeley, El Cerrito, and throughout the Bay Area, California.