Estate Planning & Divorce
Aug. 16, 2023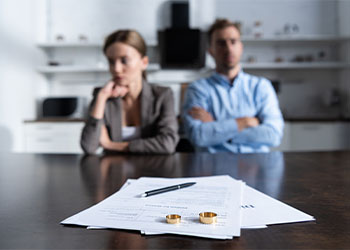 Even the best-laid plans can go awry in life. When it comes to important life matters such as marriages and estate plans, there is a lot at stake—emotionally and financially. When a marriage fails, it has a significant impact on the plans you've made for your family's financial future. This type of situation is quite common.
According to CDC statistics cited by Forbes.com, there were 689,308 divorces in 2021 in the 45 states that report such statistics. Though there are still more marriages per year than divorces, that's still a substantial number of marriages that end each year. Knowing what to expect regarding your estate plan when you go through a divorce is critical.
At Davidson Estate Law, we have the experience, knowledge, and insight to not only inform you about your legal options regarding your estate plan after your divorce but also help you make well-informed decisions about your future. If you are in the greater Oakland, California, area, or Walnut Creek, Berkeley, San Francisco, El Cerrito, Alameda, or anywhere throughout the Bay Area, reach out to our team today to schedule a consultation to discuss your situation.
How a Divorce Affects Your Estate Plan
It stands to reason that several facets of your estate plan will change depending on whether you are married or single. What may have been your priorities as a married person may not necessarily remain your priorities following your divorce. When children are involved, you will likely want to ensure your children are cared for in the event of your passing. Knowing what parts of your estate plan need to be updated and what types of changes to make is key.
Updating Your Estate Plan After a Divorce
A comprehensive estate plan includes a variety of parts that include several different legal documents. Below, you will see a brief rundown of the estate planning documents that will commonly be reviewed or updated following a divorce.
Wills
If you created a will with your spouse, it will obviously be tailored to suit the needs and priorities of your marriage. Now that you are (or soon will be) single, you should revoke your previous will and look to draft a new will better meet your needs as a single person.
Powers of Attorney & Advance Directives
It is common for an individual's spouse to be designated as the person who holds power of attorney and decision-making power in an advance directive. With the marriage over, it is in your best interest to revise these plans to ensure your now former spouse will not be making important legal, financial, and healthcare decisions on your behalf.
Retirement Accounts & Life Insurance
If your former spouse was listed as the beneficiary in important documents such as your 401(k) or life insurance policy, you should take action to update this documentation as soon as possible to ensure you are able to designate new beneficiaries.
Guardianships for Minor Children
If your divorce was contentious in nature, you may also need to revise your plans in terms of who will care for your children in the event of your passing. If your former spouse has a history of addiction or abuse, working to provide a safe and secure future for your children is paramount.
What Happens to a Trust After a Divorce?
Depending on the type of trust you put into effect before your divorce, it may or may not remain in place following the end of your marriage. When it comes to determining what assets placed in a trust are considered "marital" or "separate" property, things can become complicated and contentious. Working with an experienced estate planning attorney to ascertain your situation and look at your assets in detail is your best option.
Rely on Experienced Legal Guidance
Going through a divorce carries with it a significant level of stress and emotional turmoil. When your divorce makes it necessary to reevaluate your estate plan, it adds another layer of importance to your decision-making. When you are looking to make changes to your estate planning documents in the aftermath of a divorce, turn to a team of knowledgeable legal professionals.
Our team at Davidson Estate Law is ready to lead you in the right direction as you seek to turn the page and move toward a more peaceful future. Contact us today to learn more about your available options for your estate plan after your divorce. We proudly serve clients throughout the Bay Area of California, including Oakland, San Francisco, Alameda, El Cerrito, Berkeley, and Walnut Creek.