Estate Planning Attorney vs Online Forms
May 6, 2022
Unfortunately, many Americans do not have a last will and testament in place, the starting point of estate planning. If asked why they haven't prepared a will yet, some may say they don't know how to and others may think wills are only for wealthy people.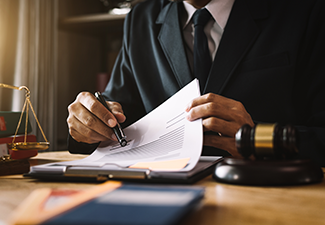 The belief that estate planning is only for rich people is common but misguided. Working adults always accumulate assets, and estate planning ensures that those assets will be distributed according to your wishes after you're gone. With no will, the state will determine who gets what based on the laws of intestacy (dying without a will).
These days, you can see advertisements everywhere for web-based services to create a will and other estate planning documents. The lure is always that creating your own will or other legal documents is fast, easy, and cheap.
Do-it-yourself (DIY) documents might be all those things – until they get to the probate court, and then mistakes in wording, oversights in details, and other issues end up costing your heirs time and money in court while leaving everyone stressed and unhappy.
If you're in Oakland, California, or the Greater Bay Area, contact Davidson Estate Law for all your estate planning needs, whether you're just starting the process or you need to review and update documents you've already created. Our attorneys will review your situation with you, provide personalized service, and help you and your loved ones achieve peace of mind that everything has been done thoroughly and correctly.
Why Estate Planning?
The obvious answer to why you should embark on estate planning is that you want to make sure your loved ones are provided for when you're gone. You don't have to be rich to have accumulated assets in life, and you don't want some probate judge deciding who gets what. The basic building block of estate planning is a last will and testament, but you don't want to stop there.
Estate planning is not just for the distribution of your assets when you pass on; it is also to have plans, policies, and legal documents in place should something unexpected happen to you during your life that leaves you no longer able properly administer your own financial affairs. Here, powers of attorney, living trusts, advance directives, and other estate planning documents can play a critical role.
Properly covering the full range of what estate planning entails can only be done by consulting with an experienced estate planning attorney. An online service may provide a fill-in-the-blanks last will and testament, but who is going to help you take into account the potential impact – on your heirs or in probate court – of what you decide? Who will make sure the DIY document is legally binding?
Online Forms vs Estate Planning Attorney
Online forms come with no legal advice or guarantees that what you create will withstand scrutiny by a court. In fact, a typical disclaimer taken from one of the nation's largest web-based DIY forms provider states:
"We are not a law firm or a substitute for an attorney or law firm. We cannot provide any kind of advice, explanation, opinion, or recommendation about possible legal rights, remedies, defenses, options, selection of forms or strategies."
In short, using an online service renders you your own attorney, which, as Abraham Lincoln quipped, means you then "have a fool as a client." Harsh words maybe, but the fact remains that you don't know all the legal ins and outs of creating estate planning documents.
You can make mistakes, overlook details, and then think everything is taken care of – until matters need to be administered legally. Then, your mistakes and oversights can lead to infighting, confrontations, and legal challenges.
There are other major issues with online forms as well. Most are not state-specific, and the one you choose may not meet all the legal standards for your state of residence. Another problem lies in modifying the form if your life changes and you need to update your estate planning. How do you modify it?
When you create an estate planning document with an attorney, you also have a backup voice if your will, for instance, is challenged in court. If you create the will on your own, you cannot explain what you meant when the will is probated. Your attorney, who helped you create your will, can answer questions and provide insights when matters end up before a judge.
Probably the biggest fallout from creating an online will is that the person doing it will get a false sense of security and may never revisit the will or consider that more legal protection is needed. That's why it's important to go the extra mile to consult with an experienced estate planning attorney.
Legal Guidance You Can Trust
There is no "one-size-fits-all" legal document online that can take into account all the needs of you and your loved ones moving forward in life. Estate planning should be a personalized consultation that examines all your options and decisions so that you come up with the right answers and the right use of legal documents.
We've used the example of a will here, but even with a will that is complete and exact in every detail, your family will still have to endure probate court proceedings for many months before your assets can be distributed. As a better option, you can create a living trust, which is administered outside of probate when you're gone. We will be happy to discuss all your options with you.
If you're in Oakland or the Greater Bay Area, including San Francisco, Berkeley, Walnut Creek, El Cerrito, or Alameda, contact Davidson Estate Law for all your estate planning needs. We provide personalized service to help you craft an estate plan that covers all potentialities so you and your loved ones can have peace of mind.